Part 3D: Military Aircraft
B-2A Spirit: Photo by MSgt. Rose Reynolds, United States Air Force.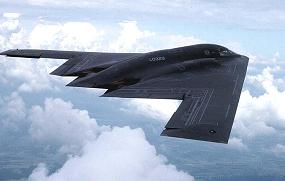 Most military aircraft communications are in the military (UHF) aircraft band, located between 225 to 400 MHz. All radio scanners in Category 6: Continuous Coverage Scanners, can receive this band. Aircraft communications will be in AM mode while satellite communications in this band will be in NFM mode. Military aircraft sometimes also use the Civilian Aircraft Band (108 to 137 MHz), especially when flying into a civilian airport. They may also be heard in the 137 to 144 MHz and 148 to 150.8 MHz government bands. The 225-400 MHz Military Aircraft Radio Band, also known as the "UHF aero" or "UHF Air" band, is shown in purple in the radio diagram below. The 137-144 MHz and 148-150.8 MHz government bands are shown in red, while the civilian aircraft band is shown in blue.



Monitoring Military Aircraft
Like commercial aircraft, military aircraft may be heard for distances of well over 100 miles, depending on the terrain and your receiving antenna. Even if you don't live near a military base you should still be able to hear some communications in this band. Unlike the civilian aircraft band (108-137 MHz), communications in the military aircraft band are far more elusive. Fewer communications will be happening at any given time, and there are far more frequencies for the communications to be spread over. As a result, it may take a significant amount of searching with your radio scanner, often for hours at a time, to hear many communications. The best way to find new frequencies is to search a small portion of the band at a time using a radio scanner with a fast search speed. You may want to leave for scanner searching while you engage in other tasks.
An aerial refueling training mission involving two F-15 Eagles (twin fins), two F-16 Fighting Falcons, and a KC-135R Stratotanker: Photo by MSgt Marvin Krause, United States Air Force.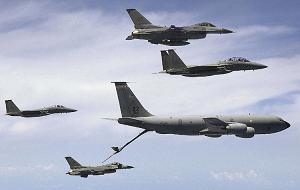 Then if you hear a conversation, you can save the frequency and continue searching.

In summary, any scanner in Category 6: Continuous Coverage Scanners can monitor the 225-400 MHz Military Aircraft Radio Band. Some receivers in Categories 3, 4, and 5 can also monitor this band even though they are not Continuous Coverage receivers and therefore are not listed in Category 6; check the frequency coverage to find out. Any scanner in Categories 2, 3, 4, 5, and 6 can monitor the 108-137 MHz Civilian Aircraft Radio Band, and the 137-144 MHz and 148-150.8 MHz government radio bands and therefore may hear some military activity.